Retail Store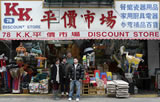 K.K. Discount Store (KKDS) has been in business since 1990. It is not just a store, it is a part of Chinatown. People in the local community have known KKDS for their assortment of products, great prices, and of course friendly services. We were once on an episode of New York Undercover, and was in the New York Daily News. When KKDS first started, it was a simple store with a simple motto "good products at a discount price with friendly service". As time passed, the store grew bigger and expanded into the wholesale business and started shipping to customers nationwide. Feel free to visit our retail store at any time, as we offer thousands of products that is not seen on this website.
Online Store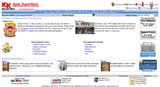 Now K.K. Discount Store is on the Internet! Same motto, "Great products, Great services, and Great prices!". KKDiscount.com is an online site with a simple goal. This e-commerce website allows people outside of NYC a chance to learn and order from us. We offer easy and safe shopping with low prices! K. K. Discount Store went online in February 2000 as part of the MadCool Network. As the years went by, we became popular and expanded in to our own entity, kkdiscount.com. We went through different website changes and added a lot more products. We even won the New York Magazine's Best Shopping Website award! The website is updated continuously with new products and new discounts. The future for KKDiscount.com will only get better. We will add more cool and unique Asian products to make it more fun to shop, and learn about the Asian culture at the same time.

Our Customers
Customers are important to us just like any other business. We don't treat customers like a statistical number, we value each and every comment and feedback given to us. We love to put a face to the name on all our orders, and interacting with our fans at our facebook page.

Who are our customer? We cater to everyone from schools, restaurants, and even celebrities. Celebrities regularly shops at our retail store, while business order wholesale from us. We will always strive for the better, and value all feedback and suggestion from our customers. Feel free to contact us!
| | |
| --- | --- |
| K. K. Discount Store Quick Links | KKDS In the Press |
| | More Press News can be found at MadCool Network |